Alumni Spotlight
Our graduates come back to visit—and here's what they have to say!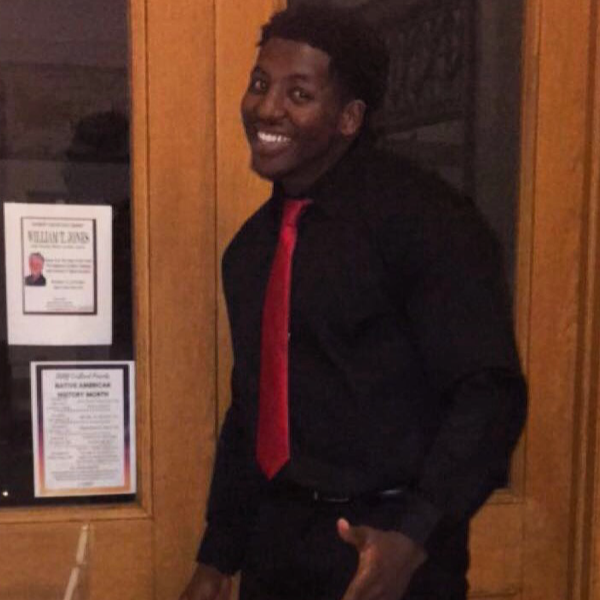 Meet Travis
Meet Travis. Travis graduated from Explore in 2009. He then graduated from Boys and Girls High School in 2013 and SUNY Cortland in 2017. Travis became a teacher with Teach for America in 2018. While training with TFA, Travis tutored 6th graders at Exceed in math. As he put it, he was honored to have the opportunity to give back to Explore.
Travis entered Explore in 4th grade. Looking back, he describes how Explore prepared him for high school and beyond:
"When I came to Explore I was below most students, reading at a low level. My teacher, stuck by me and made sure I was working everyday. I didn't realize how much she was helping me until I was awarded most improved at the end of the year. I went from scoring 1s and 2s on the ELA test to 3s and 4s. I was ready for high school thanks to the dedication of my teachers."
In addition to being awarded most improved in ELA, Travis also performed well in math. Seeing this, his teachers made sure to push him even further.
"Math was my best subject. My teachers, seeing my strengths in math, always made sure I had more challenging work to push me farther. My 8th grade teacher, gave me high school and even college work. I was very proud to tell her I was a mathematics major."
Ultimately, Travis remembers the family he had at Explore. To Travis, "it was a big family, where we grew good relationships and knew everyone."
Meet Kevin
Meet Kevin. Kevin graduated from Explore Charter School in 2009. He then graduated from Christ the King Regional High School in 2013 and Morehouse College in 2017. Currently, Kevin is earning his JD at Howard University.
When asked about how Explore prepared him for college, Kevin had this to say:
"At Explore, college was seen as not just a dream but a normal next step after high school. Early exposure to what college can produce and what a college campus is like provided me with the confidence needed to enter high school with college on my mind."
In thinking about his time at Explore, Kevin described the tools he developed that have helped him succeed in life:
"From classroom projects that entailed working in large to small groups, Explore gave me tools that I use in law school today and will use in practice. Explore taught me how to communicate effectively and manage and understand others' strengths and weaknesses. Humility was seen in every classroom as we were taught to help those in need both inside and outside of our classroom. I use that tool not only in class, but in life."
Kevin's favorite class was 8th grade English. According to Kevin, "that is where I honed in on my writing and began developing the skills that I use to this very day."
Meet Kagame
Meet Kagame. Kagame graduated from Explore Charter School in 2009. He then graduated from Brooklyn College Academy in 2013 and Hampton University in 2016, a semester early. Currently, Kagame is working for Morgan Stanley as an analyst.
Kagame described how Explore prepared him for high school and college as follows:
"Explore taught me how to think critically. Whenever I was faced with any problem, task, or situation, I was forced to examine and explore all possible variables before coming to a solution. Explore prepared me to be a diligent student, to never settle, and taught me to fall in love with learning. There is so much knowledge out there for us to go out and get. Never stop asking questions, and never stop searching until you get your answers."
When thinking about his time at Explore, Kagame is reminded of the pep-rallies and field days. He described the events as "great moments for all of the students and staff to get together and just have a great time competing with one another. Besides, who wouldn't want to see Mr. Ballen (Founder of Explore Schools) playing Basketball?"
Kagame's favorite class was 'Family 2B' in second grade. He describes why below:
"This was my first class at Explore. This was where I met and gained my first friends, and I still have some of those same relationships today. Explore will always have a strong and special place in my heart, and I will always continue to give back in any way that I can."